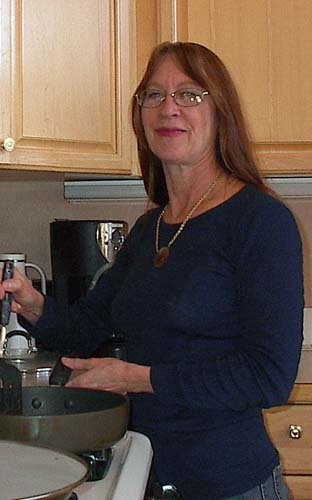 Fourth Annette Vetter adventure forthcoming
She's at it again... Annette can't seem to stay out of trouble.
Now she and best friend Penny are babysitting for Pete Randt's younger brothers and sisters while their mom is in the hospital having her ninth baby -- and on Thanksgiving, of all days.

What they think is going to be a one-day affair turns out to be a marathon. Mrs. Randt is having complications, so Annette and Penny agree to spend the night so that Mr. Randt can be with his wife in the labor room at Ravensville Hospital. They get to sleep up in the attic room of the old farmhouse... and not only is it cold and creepy... it's haunted!

The next day it starts to snow... hard. An early freak winter storm covers most of Wisconsin as Mr. Randt calls home to report that baby Laura has been born, but mother and baby must remain in the hospital a couple of extra days. Meanwhile, Grandma Dawson is having a difficult time getting to Jackson County from Rhinelander, so Pete's father has to drive up and bring her down.
Annette and Penny are only too glad to help out by staying at the Randts' another night. Of course, Annette is thrilled to be under the same roof as Pete, and endures the teasing of his brothers and sisters when the two are caught holding hands in the living room And Penny is smitten by Reid Anderson, the hired hand, who not only can sing and play the guitar, but tells ghost stories.
The kids love it when Reid tells about the legend of the Man with the Lantern. But then seeing the Man with the Lantern roaming the woods in the middle of the night is another thing... and then there are the poachers who are wreaking havoc during rifle season... not to mention Annette's mother's secret admirer.
The Legend of the Lantern is Annette and Penny's fourth adventure in the teen mystery series that is set in 1968 in rural, west-central Wisconsin. Come have an unforgettable Thanksgiving in Ravensville with Annette, Penny, Tim and Pete. Coming out from Earth Star Publications in November 2011. See details.
Interested in ebooks? Visit my ebooks page
---
---
BE SURE TO CHECK OUT my other blog at starbeacon.blogspot.com
To place your order for Ann's autobiographty, THROUGHOUT ALL TIME, click here.
E-mail Ann to leave a comment.
Ann Ulrich Miller


Create Your Badge