HEALING FROM GRIEF
Today marks one month since my husband Ethan's passing. Some of you have wondered if I have stopped blogging. No, I just needed some time. Suddenly time has become more of a friend to me than ever. It's not my enemy anymore. It's on my side. It is helping me slowly adjust and gives as much of itself as it can to my healing.
This grief thing is really new to me, even though I believe it started back when Ethan first had an attack (late Feb. 2006). I never knew it would be as difficult as it has been, going on without him. I don't know what I'd have done without the support and love from family and friends. Many many cards have come with words of comfort, and they have meant more to me than you realize.
Tears and crying spells come at the drop of a hat, it seems. My most vulnerable times come around mealtime, especially lunch, when I realize I'm missing him most. I had a really hard day the last Sunday in September, when I was going through things and found an envelope Ethan had left for me to find. It contained a letter from him and several cards he had placed in individual envelopes, all with special messages of love. As you can imagine, it tore me apart. I couldn't stop sobbing all that day.
Ethan was just that kind of guy, leaving love notes for me in places to find. He dedicated a special song on a CD to me. Here I was going to put that CD in the "get rid of" pile, but I immediately retrieved it, and now I cry whenever I hear the song. It was called "Peaceful Easy Feeling." It apparently said what was in Ethan's heart.
Last weekend was Ethan's memorial service in Somerset, Pa., held at the Milford United Methodist Church. The minister read my eulogy and one written by Ethan's niece Amy. It was very nice, and I'm happy there were so many members of both our families there. My son Scott came on Tuesday, Sept. 30 and stayed with me throughout that week.
My son Ryan arrived in Columbus Friday evening, and along with my brother Jim and his wife Linda from Wisconsin, as well as my brother Jon, who drove out from Nevada and has been visiting the Wisconsin relatives. I am grateful they made the long trip. It meant so much to me having them there.
Dale (Ethan's brother) and Sandy (his wife) arranged for a wonderful luncheon after the memorial service. Afterwards, we all drove to Samuels Lutheran Church cemetery to place Ethan's urn on the gravesite. I thought I was going to save some of Ethan's ashes for myself, but I decided against that idea. Instead, I placed some special mementos inside the urn and closed it back up.
I left an angel on the grave, the same angel that had accompanied Ethan, the dog and I in the front of our car when we moved out from Colorado to Ohio in January 2007. You might be able to see her in front of Ethan's stone in the photo of me and the dog (look on Ethan's Memorial page).
I wish to express my gratitude to both Ron and Randy, Ethan's sons, for all they did to help their dad and me when we moved to Ohio from Colorado. If it hadn't been for them, we wouldn't have been able to get here. Moving to Ohio, I genuinely believe, extended Ethan's life at least a year. If I had been more level-headed, I would have said more about Ron and Randy in the eulogy I wrote. They were a big part of Ethan's life. They've become my family as well in the last year and a half.
Jim, Jon and Linda left after the memorial service, to head west for Wisconsin. The boys and I stayed overnight at the Quality Inn (with the dog) and attended the Miller Reunion on Sunday, which was held out at the gun club in the country. I kept asking people to give me directions to get there, but nobody seemed to know.
The next morning, we headed out in that direction. I wanted to visit Ethan's grave a last time. Somehow I took the wrong road and realized it too late. Instead of turning around, however, I felt "directed" to make a left turn onto Sportsman's Road. It wound around and, quite suddenly, there was the church and the cemetery -- on that road! Ethan, I feel, directed us there.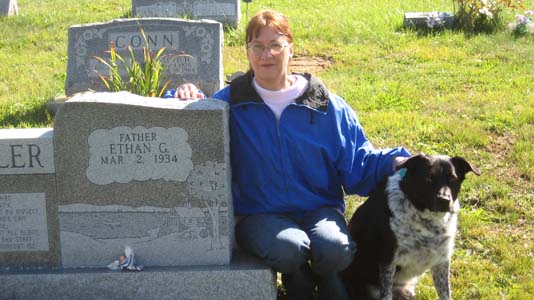 After that, I let Scott drive because I was kind of weepy, and we let Ethan guide us from there to the gun club. Remarkably, we drove right to it. We spent a pleasant afternoon in the company of relatives, some of whom hadn't been able to attend the memorial. It was a beautiful day with sunshine and the colors starting to turn on the trees.
We drove home that day. Ryan and Scott both had flights out of Columbus on Monday at noon. We missed Marty not being with us at this time, but understand it was just too difficult for him to make the trip all the way from California.
My next blog might be a long time in coming. My pace has slowed quite a bit, and for good reason. Ranger (our dog) is coping just fine (better than I am) and Jessica (the Halloween cat)... well, she's still Jessica.
---
---
BE SURE TO CHECK OUT my new column at the Denver Examiner, where you can find articles on Relationship Transition.
To place your order for Ann's new book, THROUGHOUT ALL TIME, click here.
E-mail Ann to leave a comment.