RAINBOW MAJESTY, ROMANTIC SUSPENSE
My newest novel is coming out this month. Rainbow Majesty is romantic suspense about light workers. Inspired by my many years of living in the North Fork Valley of Colorado, I wrote this book after I relocated to southeastern Ohio in 2007. Bringing the characters to life in the beautiful place that I missed was a comfort to me in the year and a half I spent caring for my terminally ill husband.
The Rainbow Majestic Lodge was inspired by a landmark up Stevens Gulch Road, eighteen miles north of Paonia, which is known as Electric Mountain Lodge. In March 2005 there was a gas explosion that caused the lodge to burn to the ground, which resulted in the death of three children. The tragedy was a shock to the community. Since then, Electric Mountain Lodge has been rebuilt, although it is not as large or grandiose as the original.
Light workers are a special breed. I have had the pleasure over the years of getting to know many of them, and consider myself to be one as well. People ask, "What is a light worker?" I suppose there are many definitions. The simplest answer I can give is this: "A light worker is someone who wants to make our planet a better world."
Marcia McMahon describes light workers as those who "hear the Sacred Voice of the Divine, known as the Still Small Voice of God. ... They never exclude others' understanding that they also are a part of Divine Source and each person's work is valued and cherished for their spiritual gifts. Their laughter and sunshine brightens any room. They bring the Masters with them to any party. They have moved beyond churches and temples, holding their sacred energy within."
Struck down first by her fiance's death in Iraq, and now the loss of her long-suffering mother, Juniper Sutton searches for the meaning of life...
Hoping to seek answers to her father's death 22 years prior, Juniper leaves Kansas for the Rocky Mountains. Converted from a hunting resort, the Rainbow Majestic Lodge now caters to light workers and Juniper agrees to manage the lodge's new gift shop for her Aunt Rosalee.
Two men employed by her aunt capture her heart while she is thrust into a new way of thinking and encounters extraordinary people and ideas. But Gena Sutton Howard, Juniper's first cousin, sets herself up from the beginning to challenge Juniper every step of the way.
However, Gena's psychic ability uncovers something she'd rather not know about the young woman from Kansas, and the lodge's dark secrets begin to spill out -- even to the point of murder.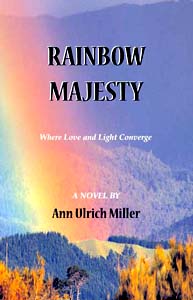 My undying gratitude goes to the following individuals for their encouragement, support and loving guidance in this rewarding project of Love and Light ... Suzanne Ward, Judy Horky, John Cali, Chrystle Clae, Ildi Ingraham, Honey Lee French and Arda Golden Eagle Woman.
Also my unseen helpers in the other Realms, including my guides and angels, friends in spirit and my soul mate.
I especially want to thank a special person in my life who has helped open my eyes and my mind to new ways of thinking. Thank you, Doug, for being you and letting me be me, as well as your refreshing, realistic perspective, your sharing, your caring, and your knowing that you always have my love.

ORDER your copy of RAINBOW MAJESTY through Create Space's estore or through Amazon.com
---
BE SURE TO CHECK OUT my new column at the Denver Examiner, where you can find articles on Relationship Transition.
To place your order for Ann's new book, THROUGHOUT ALL TIME, click here.
E-mail Ann to leave a comment.