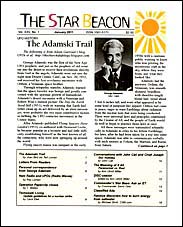 The Star Beacon
is my monthly metaphysical newsletter that has been in print since April 1987. It covers a multitude of topics, including UFOs, ETs, psychic phenomena, channeling, paranormal, spirituality, health and healing, cosmic book reviews, reports, conferences, personal journeys, and a whole lot more.
We begin a new year with the lead article on one of ufology's most respected contactees, George Adamski, in "The Adamski Trail," compliments of UFOs et al blog (by Aileen Garoutte).
The January issue is blessed with several letters from readers and an article from T. Stokes of the UK, "Operation Paperclip closes," on the German scientists from WWII.
Ray Larsen pens his "Radio Waves" column this month with some valuable information on HAM radio.
In Teotwawki Living, Carol Elek updates us on guidelines for survival, specifically in the event of a nuclear strike.
In Conversations with Chief Joseph, John Cali's subject this month is Doc Holliday, one of the gunfighters from the Old West.
Sanni Ceto's "Commander's Star Base" column is a Q & A about space and ETs.
In my DISC-ussion column this month there is a rumor that Obama may announce something about UFOs in the coming weeks, and from Filer's Files a man reports a UFO "cloud" hovering over Albuquerque. A CNN report suggests the Israeli Air Force shot down a UFO, and New Zealand releases UFO government files.
In "The Meaning of It All," my personal column, I talk about "Paranormal vs. Real," and on the back page there is a story about John Kanzius, an inventor who can burn energy from saltwater.
The January issue is available for your FREE DOWN LOAD! Please enjoy it. To receive your free download, please e-mail starbeacon@gmail.com and put "FREE TSB DOWNLOAD" in the subject line.
Should you wish to subscribe, the PDF subscription is only $12.00 a year.
If you prefer reading in print, you can sign up for a year's subscription here for just $27.00.