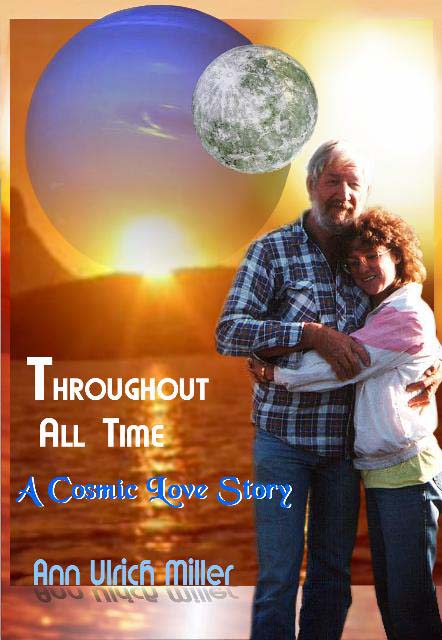 Ann Ulrich Miller was one of those people who added a lot of local color to the Paonia and North Fork area during the 1990s. Whenever someone wanted to show how "far out" Paonia was, Ann was one of the people they pointed to. There was nothing too far out there for Ann.
She founded the Paonia UFO Contact Center, part of a national network, which collected and coordinated UFO sighting information. She started and still publishes The Star Beacon newsletter. She held a couple of Love and Light Conferences in Hotchkiss at Memorial Hall and another at Heritage Hall at the fairgrounds.
She started her own publishing company, Earth Star Publications, and besides the editing and publishing the work of others (usually UFO or New Age related but also including Karen W. Gallob's 2007 mystery novel), she self-published a series of her own books combining romance and UFOs plus other things, including some teen mysteries. And once she came within a hairswidth of buying The Merchant Herald.
That's one of the many local stories she relates in her confessional memoir Throughout All Time, A Cosmic Love Story ($17.00 pb - Earth Star Publications).
For North Fork longtimers the book, about two thirds of which deals with her life in the North Fork, is chock full of juicy details and naming names. Wanna really know about Julian Joyce? Check. Wanna know Ann's side of getting fired from the Shopper for putting that gripe ad in about Wayne's Drive-in? Check. What about Ann's view of the Wake fire in 1994? Check. How about a list of local UFOish sightings? Check. Are you mentioned in here? Maybe.
Although the stated purpose of the book is to relate her 18-year relationship and eventual marriage to retired autoworker Ethan Miller, her "soulmate," the book is really more of a very, very detailed version of the classic tell-all memoir that a lot of people in the North Fork will find fascinating. She does Dalton Trumbo one better. Say what you will about Ann and her life choices and beliefs, this is a juicy slice of local recent history with few punches pulled.
The book is available locally through Expressions Books in Paonia or at www.earthstarpublications.com.