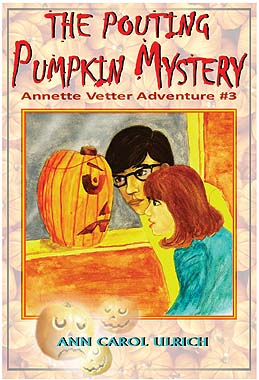 Ann Ulrich Miller has never been to Jackson County, but something compelled her to pick it out as the setting for one of her book series nearly 40 years ago.

Ulrich Miller picked the county on a map as the home of Annette Vetter, the main character in a young-adult mystery series Ulrich miller, 56, writes about a 15-year-old girl growing up in rural Wisconsin in the 1960s, but it wasn't purely coincidental.
"My brother had lived in Stevens Point for a few years at a very impressionable time in my life," Ulrich Miller said. "I'm very inspired by that area of Wisconsin."
So far, Ulrich Miller has written three books in the series. The most recent book is titled The Pouting Pumpkin Mystery. A fourth is in the works, and Jackson County will set the scene for all but the first of the Annette Vetter mysteries.
Annette, a somewhat typical rural teenager, lives with her widowed mother in the woods outside of the fictional town of Ravensville. Annette is an only child, but her best friend, Penny, lives on the dairy farm just down the road. Each book represents a month in Annette's life as well as a new mystery to solve.
"She's the girl I always wanted to be, living in the country with woods all around her," said Ulrich Miller, who grew up in Monona, a suburb of Madison.
The series kicked off by introducing the heroine in The Mystery at Hickory Hill, where Annette and Penny visit a ranch in the Cochetopa Hills of Colorado. An eccentric mountain man, a missing professor and a stray sheepdog provide the ingredients for danger. The pair then start their sophomore year of high school in The Secret of the Green Paint, which focuses on an estranged rather and a serial killer.
As well as solving mysteries, the books also focus on what it was like growing up in 1968. Ulrich Miller wrote the first Annette Vetter mystery when she herself was only 15 years old.
"In the last five years, I picked them up and, seeing the value of what life was like in the 1960s, I wanted to share that with today's teens," she said. Although life appeared to be very different then, Ulrich Miller said it was still very much the same for young girls then as it is today.
Ulrich Miller has worked for newspapers most of her life but has written other books besides the Annette Vetter series. Other work by Ulrich Miller, whose name appears as Ann Carol Ulrich on her work, include a science fiction trilogy and adult romantic suspense novels. Her next book, Rainbow Majesty, is slated to come out in 2009.
In the meantime, Ulrich Miller did, in fact, get to live out her dream of being a rural girl and raising chickens on her 75-acre home in New Matamoras, Ohio. She said she hopes young people read the stories of Annette Vetter and step back into a time when life didn't move so fast.
"It seems like time was just slower then than it is now," Ulrich Miller said. "I just hope they can experience the enjoyment of being a more care-free teen in a more care-free time."